SUSU Antenna Array
From SUWS-wiki
SUSU Antenna Array
This project aims to build a new amateur radio antenna array to mount on the students union, along with an operating station within the building. This would be of benefit to SUWS as well as other societies.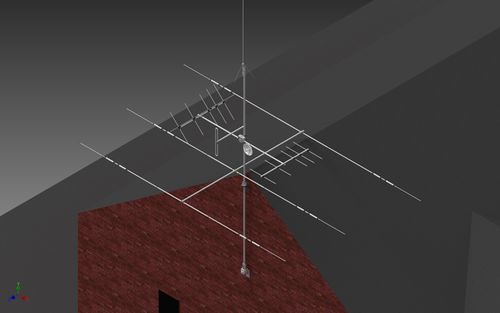 Current Status
Currently in purchasing and refurbishment stage as well as final planning on assembly and connections
Task List
The task list can be found at https://github.com/SUWS/mast-planning/issues
Interested Parties
SUWS (us) - General Amateur Radio operation / tracking high altitude balloons.
Space Flight Society

Interested in helping us.
Interested in tracking satellite / high altitude balloons

SUSUtv

Interested in directional Wi-Fi for live campus broadcast

Surge

Interested in properly fixing their FM antenna

Astronomy

Interested in 1GHz-2GHz (?) radio astronomy.

ECS Sensor Network Research

868Mhz omni for sensor network node

There is still room for other interest should there be any
Antenna/Feature Ideas
Confirmed
triband 2m/70cm/6m omni
70cm+2m on dual-axis rotator
SURGE FM broadcast antenna
SOWN Wi-Fi @ coordinates
868 sensor net antenna on spur
Sensible
23cm on spur
radio telescope (astrosoc)
monitoring node (temp/wind ect)
Current Plan
From top of the mast to bottom.
6m/2m/70cm collinear (AR+satellites+HABs)
Spur bar

FM Broadcast antenna (SURGE)
868 MHz omni (sensor networks)
Elevation rotator

2m Crossed Yagi (AR+satellites)
70cm Yagi (AR+satellites+HABs)
5GHz Wifi Dish (SOWN+SUSUTV)
Timeline
80s/90s - Mast on SUSU with room at the end of B40 as operating room
2014 - June/July - Room in B40 converted to general use (start of mast planning)
2014 - Sept Created WIKI page
2014 - October - Initial plan for mast created
2015 - March - Applied for funding with SUSU and granted
2015 - March - SUSU H&S have given preliminary approval for the project
2015 - March - SUSU Facilities had no objections when spoken to
2015 - May - Informed that we had been told to speak to the wrong people and is being passed on to the correct people
2015 - August - Room in 40 re-purposed back into an office
2015 - August - Created feasibility report for B42
2015 - September - Union services discussing with E&F
2015 - October - VPDCI chasing up for meeting result
2016 - March - Informed that SUSU has been unable to get permission from E&F for the mast on 42. no more details provided
2016 - September - E&F didnt know why it was canceled from there end
2016 - September - Spoke to New VPDCI about project no progress made
2017 - September - Resumed communication with new SUSU VPDCI about the mast
Kit
Statuses

Arrived - We have the item.
Ordered - We have ordered the item.
Approved - We are good to purchase the item but have not done so yet.
Awaiting Approval - We know what we need and are awaiting financial approval.
Pending - Something is blocking on us being able to approve this item.
All prices are VAT included, unless otherwise specified. "+ £X.XX" indicates additional costs, such as shipping.
Purchase Tracking
Item
Cost
Link
Budget
Status
Ordered / Acquired By
Notes
Actions Required
Triband Vertical
£87.95
[1]
Mast
Arrived 2015-04-21
TylerWard
Lithium Grease 500g
£7.95
[2]
Mast
Arrived 2015-05-11
TylerWard.
Datasheet
SSD for APU board
£32.39
[3]
ECS Networks
Arrived 2015-05-11
ECS
868 Antenna
£23.44
[4]
Mountain Sensing
Arrived 2015-05-14
Kirk
2M Crossed Yagi
£89.95 + £4.99
[5]
Mast
Arrived 2015-05-15
TylerWard
Separation kit G5400
Free (Thanks Yaesu)
N/A
N/A
Arrived 2015-05-15
Nsefan
Purpose: To mount the elevation on a pole
Horizontal mast section
Already owned by SUWS
N/A
N/A
Arrived
DavidNewman
Needs 32-43mm diameter
needs cleaning
Fast Ethernet 16 port managed switch (with gigabit uplink)
Free (Thanks ECS)
N/A
N/A
Arrived 2015-05-20
DavidNewman
Dual Axis Rotator
£40
[6]
Mast
Arrived 2014
M0NSA
Awaiting invoice for reimbursement
HF Dipole Beam
Already owned by SUWS
N/A
N/A
Arrived 19??
Craag
Refurbishment required. Replacement parts will be required
Ubiquity Powerbeam PBE-M5-300 and accessories
£66.46
[7]
TJC's Services Rendered
Arrived 2015-05-19
ECS
Screws For Rotator (M6*20)
£5.03
[8]
Mast
Arrived
Muzer
Awaiting invoice
Nuts For Rotator (M6)
£3.78
[9]
Mast
Arrived
TylerWard
Washers For Rotator (M6)
£1.19
[10]
Mast
Arrived
TylerWard
70cm Yagi
£52.96 + £10
[11]
Mast
Approved
Awaiting Purchase (Waiting on ML&S order)
Loctite 243 (for securing the bolts)
£8.27+VAT
[12]
Mast
Approved
Needs Ordering (awaiting a onecall order)
Loctite 262
£3.99
[13]
Mast
Arrived
Tyler-Ward
HF Balun
£29.95 + £4.00
[14]
Mast
Approved
Awaiting order from walters and stanton
0.5in x 1 metre long aluminium tube (1.6mm thick)
£7.38
[15]
Mast
Approved
Replacement for broken EG component of HF beam
Date to be approved/ordered: Approve ASAP. (May check if anything else needs to be ordered from same supplier before ordering).
Vertical mast section
£52.95
[16]
Mast
Pending
Needs to be between 38-63mm in diameter
To be approved later need to confirm appropriate length
Mast Thrust Bearing (Yaesu GS-065)
£47.61 + VAT
[17]
Approved
Need to confirm wall mounting
Rotator and Bearing Wall Mounts
£59.23 + VAT
[18]
Pending
Yaesu BE645Y, Pair including both rotator and bearing bracket
Need to confirm wall mounting
Rack Cupboard
£180
[19]
Pending
21U 600mm Deep Data Cabinet/Data Rack
Pending SUSU approval for wall mounting
Open Orders with suppliers
| Supplier | Items | Delivery Cost | Minimum Order | Notes | Actions Required |
| --- | --- | --- | --- | --- | --- |
| onecall.farnell.com | | FREE | £20 | | |
| http://wsplc.com/ | | £4 | NONE | | |
| screwfix | | £? | NONE | Can buy directly in Southampton store | |
Other parts known to be needed
Internal patch panel parts
Coax parts

coax
connectors
Per Antenna Feed (5 required)

2x weatherproof Flex-8 Connectors

Per Room Feed (5 required, 8 ideally)

1x Weatherproof RG-213 Connector
1x indoor RG-213 Connector
Coax Info
Information sourced from Coax Data and ML&S
Prices sourced from ML&S inc. VAT
Note: Connectors for Ultraflex 7 are uncommon, and so may add significantly to the expense.
History
Previous mast installed in this location
photo from: http://2009.igem.org/wiki/images/f/fa/Hartley_web.jpg